It All Starts With "The Skinny Map"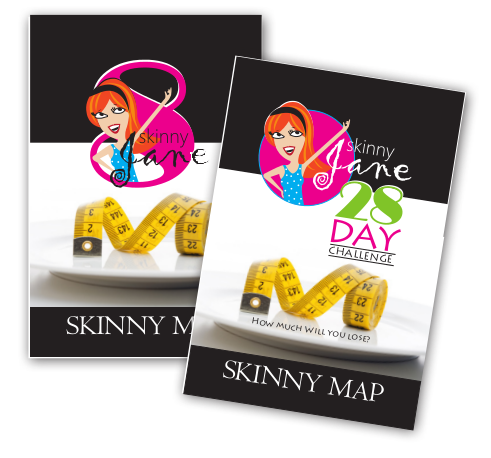 Your Skinny Map contains all the tools you need to lose weight and keep it off.

28 Day Skinny Map (Program Guide, Grocery List, 4 Week Meal Plan, Smoothie Recipes)
  or
8 Week Skinny Map (Program Guide, Grocery List, 8 Week Meal Plan, Motivational Tools, Success Card, Fast 'n' Skinny Recipes, Smoothie Recipes, Fast Food Guide, and more!)

Best of all, the Skinny Map is simple to follow. Your Skinny Map guides you step-by-step...all you have to do is follow the Map, and you will lose weight!

In the first week alone, you could lose 5-10 lb!

Each week, you'll follow a different SkinnyJane Menu Map. The Menu Maps are designed to really rev up your metabolism and make sure that you break through the usual plateaus that happen when women attempt to lose weight. Each day of the week, you'll know exactly what to eat (every day foods at your grocery store), and if you don't like one of the SkinnyMeals, you can simply replace it with another SkinnyMeal on your Menu Map...it couldn't be any easier!

Starting with Week 1on your Meal Plan, Power Plan Cleanse, you will get rid of body fat, cleanse your system and energize your metabolism. We show you when and what foods to eat so you lose weight and feel great! Again, you will most likely lose 5-10 lb in this first week. From there, you will be guided week by week with a simple Menu Map to propel you forward and toward your goal...to lose weight and keep it off for good!