Fall is here and that means pumpkin spice season is in full swing. But wait, hold the latte! Pumpkin SEEDS contain 12g of protein, 12g of fiber, are packed with magnesium, iron, and healthy fats making them the perfect healthy snack! Plus, it's real food, not sugar and artificial ingredients. The best to enjoy pumpkin seeds is by roasting them and we have the easiest, tastiest recipe for you!
All you need is:
A pumpkin (or 10 if you love them as much as I do)
Knife
Large spoon
Colander
Measuring cups
Medium-large saucepan
Sheet pan or baking dish
Extra virgin olive oil
Salt
1. Remove the pumpkin seeds - Using a sharp knife cut around the top of the pumpkin. Remove the top by simply pulling up on the stem. Scrape the seeds with a large spoon.
You can also cut the pumpkin in half if using a smaller pumpkin. I just so happened to be carving one.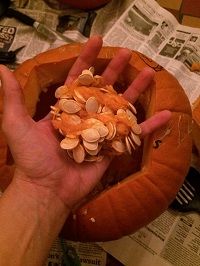 2. Preheat the oven to 400°F
3. Rinse seeds - Place seeds in a colander under running water until cleared of "guts". I like to separate the guts from the seeds as much as possible when carving. However, rinsing typically takes off most of the pumpkin innards.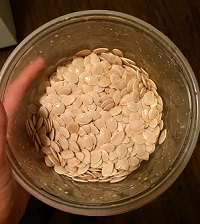 4. Boil the seeds - YES! This is the trick to the best pumpkin seeds ever! Measure seeds by the 1/2 cup into a medium-large sauce pan. For every 1/2 cup of seeds, add 1 cup water and 1 Tbsp salt. Note: You can always add less salt if you're watching your sodium intake.
Let the water come to a boil and then turn the heat to low, simmering seeds in the salted water for 10 minutes.
5. Lay seeds in a single layer on a sheet pan or baking dish - Toss lightly in olive oil and top with any additional seasons. The seeds will already have a light salty flavor so avoid adding salt. In the picture below I added pepper. Please note: if you add seasonings they may brown before the pumpkin seeds so you may want to add extra flavors halfway through cooking.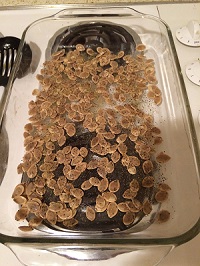 6. Bake on the top rack for 10-30 minutes - This cooking time will depend solely on the size of the seeds and the oven. Smaller seeds will take less time. Check the seeds every few minutes You will take them out of the oven once they are golden brown.
7. Let Cool and ENJOY! I cannot get over how good these taste! Pictured are my Plain & Skinny pumpkin seeds. Ladies, pumpkin seeds are amazing for weight loss. The protein and fiber will keep you full, the healthy fats will give you glowing skin, and the vitamin and mineral content is virtually un-matched!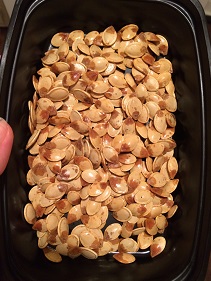 This fall, switch out your daily serving of almonds for homemade pumpkin seeds! You can also use this method to roast any kind of squash seed - don't let them go to waste! I was inspired by this recipe, which is truly the best method I've found for cooking pumpkin seeds. Let us know how you use this recipe! Post your pumpkin seeds on Facebook for a chance to be featured.